Beef Jerky remains to be the most sought-after snack item to the people who do understand its real potentiality.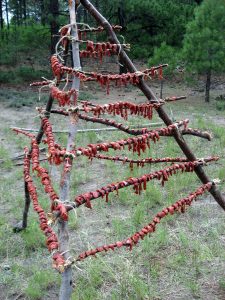 It is loved by all due to its high protein and less calorie value. Further, it's lightweight and full of energy. That is why bodybuilders and astronauts prefer Beef Jerky above all other items to stay fit for a longer duration.
As a part of the promotional campaign, we planned something different. There was a prediction of Maya that 21 December Friday will be the end of the universe. To associate this Black Friday, we introduced the concept of Beef Jerky Survival Pack. Whenever people give an order of a Beef Jerky packet, one is assured to receive a mobile phone charger with solar panel free of cost. Moreover, we used to provide a unique straw with some technology attached to it to make polluted water drinkable. Above all, there was our "Beef Jerky Survival Pack".
Beef Jerky Survival Guide teaches you how to confront an animal, how to preserve your body and several allied topics. It suggests avoiding mushrooms as some of those are really poisonous and can do harm to the body. If you are alone and moving from one location to another, use a shovel at the hand. These are all the survival strategies that man adopts to remain alive. It is advised never to leave excess foods in your hiding places as it might attract wild animals. These things do bring danger in life and those should be avoided at any cost.
So, Beef Jerky Survival Guide was one of the most popular gift ever given and that too with a packet of beef jerky itself.